National Grid ESO's FES launched today
National Grid ESO's Future Energy Scenarios (FES) published today, and celebrating their 10th anniversary, draw on hundreds of experts' views to model four credible energy pathways for Britain over coming decades. Matthew Wright, their head of strategy and regulation, outlines what the 2021 outlook means for consumers, society and the energy system itself.
"This year's Future Energy Scenarios insight reveals a glimpse of a Britain that is powered with net zero carbon emissions," he writes. "Our analysis shows that our country can achieve its legally-binding carbon reduction targets: in three out of four scenarios in the analysis, the country reaches net zero carbon emissions by 2050, with Leading the Way – our most ambitious scenario – achieving it in 2047 and becoming net negative by 2050."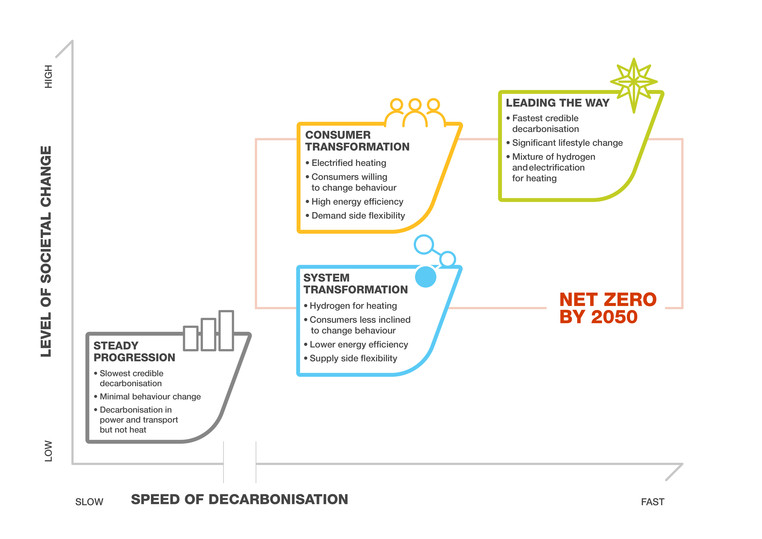 "Two scenarios – Leading the Way and Consumer Transformation – see Britain reduce its emissions by 2035 by the 78% (from 1990 levels) committed to in the recent sixth Carbon Budget. But our analysis also highlights the level of societal change and policy direction that will be needed to meet these targets.
"Consumers will need to embrace new ways to use energy in the coming years. That means a greater understanding of how their power use and lifestyle choices impact how sustainable our energy system will be – from how we heat our homes, to when we charge our future cars.
"For example, in our Leading the Way scenario, people in 2050 are turning down their thermostats by an average of 1°C, reducing heat demand by 13%.
"And over 80% of households are smart charging their electric vehicle (EV), responding to time-of-use energy tariffs to access cheaper, greener energy and reduce peak demand on the grid.
"Switching to LED light bulbs and smart appliances, too, could have a significant impact, with potential improvements of over 30% in consumers' energy efficiency according to our Consumer Transformation scenario."
UK net zero strategy must assemble a mass skilled workforce, says Energy Barometer 2021
Professionals across all walks of UK energy have called today (12 July) for government and industry to coalesce around a national skills strategy that underpins the development of low-carbon energy and supply chains, in a just way that does not leave today's skilled workers and their communities stranded.
Their views, hopes and fears are revealed as part of the Energy Institute's (EI) Energy Barometer 2021: the net zero skills issue, based on responses from more than 400 UK professionals representing the span from renewables to oil and gas to energy efficiency.
Acknowledging progress in UK energy policy over the past year, but that further bold action is needed to get the country on track for its 2030 and 2050 emission reduction goals, respondents to the survey highlight that action to bring on the necessary workforce is pressing.
EI President Steve Holliday FREng FEI said: "A laser focus on policies and initiatives to drive the development of low-carbon technologies is vital, but it must not eclipse the equally important need to support and develop the net zero workforce.
"We often hear about the long lead times involved in building a new power plant. But the lead times required to bring on a heat pump installer or wind turbine engineer – from inspiring interest in STEM in schools through the necessary apprenticeships and university degrees and into the workforce – are as long if not longer.
"The Barometer is clear that decarbonisation won't happen at the necessary speed and scale without the assembly of a mass skilled workforce, and so we are encouraged by signals from ministers that this will be an integral part of the UK's net zero strategy."
No nuclear in the UK's Green Financing Framework
The UK's Green Financing Framework, released on 1 July by the Treasury, describes government plans to finance expenditures by issuing green gilts and the retail Green Savings Bonds that it believes "will be critical in tackling climate change and other environmental challenges". The 31-page framework sets out the basis for identification, selection, verification and reporting of the green projects eligible for finance from the green gilt programme and savings bonds. The Framework "aligns with the 2021 International Capital Market Association (ICMA) Green Bond Principles."
The framework lists renewable energy as one of its "green categories" with the following "subcategories":
Support development of renewable energy generation capacity such as wind, solar and hydrogen;
Schemes for renewable heat use, including heat networks, heat pumps and hydrogen heating;
Support for energy storage systems, such as batteries, compressed air/liquid air, and gravitational storage; and
Research and development for the commercial viability of renewable energy technologies.
It also details a number of "exclusions". It says, "Eligible Green Expenditures will exclude any expenditures financed and/or refinanced by green financing instruments issued by other government agencies and public sector entities to ensure suitable oversight and avoid double-counting."
Also excluded is nuclear energy. The document notes: "Recognising that many sustainable investors have exclusionary criteria in place around nuclear energy, the UK Government will not finance any nuclear energy-related expenditures under the Framework." It adds, however that the government recognises that reaching net zero emissions will require all energy to be delivered to consumers in zero-carbon forms and be derived from low carbon sources.
Gems from throughout the week
INEOS Chemicals Grangemouth, INEOS FPS and Petroineos, signed a Memorandum of Understanding on 9 July with the Acorn CCS Project to work together to develop Scotland's first carbon capture and storage system linking Scotland's industrial heartland to the Acorn CO2 transport and storage system in North East Scotland by 2027.
Today's announcement presents a pathway for Scotland to help meet its ambitious climate targets through effective carbon capture and storage. Investment at the Grangemouth site will enable the capture and storage of approximately one million tonnes a year of CO2 by 2027, with the scope to capture further significant volumes beyond this date.
On 8 July Ørsted announced a partnership with onshore wind community engagement pioneer Falck Renewables and floating wind expert BlueFloat Energy, to participate in the upcoming ScotWind leasing round.
The consortium is set to apply for seabed leases in sites which lend themselves to the deployment of large-scale floating wind technology in the Crown Estate Scotland's upcoming Scotwind leasing round.
Since pioneering the first ever offshore wind farm in 1991, Ørsted has developed and built more offshore wind projects than any other company in the world. Combining this unparalleled track record with BlueFloat's unique knowledge and experience in developing, financing and executing floating wind projects and Falck Renewables' track record in global project development and community engagement in Scotland in particular, the consortium is well placed to deliver world-class floating offshore projects.
New car registrations in June grew 28.0% year-on-year to 186,128, according to the Society of Motor Manufacturers and Traders (SMMT)'s latest figures. The monthly performance was again artificially lifted through comparison with June 2020, when the UK began to emerge from the first pandemic lockdown and showrooms in England opened up at the beginning of the month.
With the latest SMMT research showing electrification could create 40,000 new jobs by 2030, plug-in vehicles continued to increase market share.3 Combined, battery electric (BEVs) and plug-in hybrid vehicles (PHEVs) accounted for 17.2% of new vehicles hitting the road (31,981 units). BEVs accounted for more than one in 10 registrations (10.7%). PHEV uptake, however, continued to grow faster than BEV uptake for the third month running, following reductions to the Plug-in Car Grant in March.
Last week, The Crown Estate announced the formation of the Offshore Wind and CCUS Co-location Forum which will identify the key challenges and opportunities associated with the co-location of Offshore Wind and Carbon Capture Usage and Storage (CCUS) infrastructure, as well as solutions to help make this a reality where needed.
Following the advice of the Climate Change Committee, both offshore wind and CCUS have a significant role to play in helping the UK achieve its net zero by 2050 obligations. As suitable space on the seabed is limited, and as capacities for both will need to increase to meet this target, it is anticipated that that there will be a number of areas that will require infrastructure in the same location.
Led by The Crown Estate, the Forum brings together the offshore wind and CCUS industries including the Oil & Gas Authority (OGA), the Carbon Capture and Storage Association (CCSA) and RenewableUK, as well as Government and Crown Estate Scotland. It will provide strategic coordination of co-location research and activity and help maximise the potential of the seabed for these two critical activities.
Food for thought: Jeremy Cresswell, the emeritus editor of @EnergyVoiceNews, wrote a thought-provoking piece: That all low carbon energy roads lead to Glasgow for COP26 in November would seem a fair supposition. However, energy is a world where it is mostly money that talks. he writes. "The system favours the haves, and not the billions of people around the world for whom being able to cook a meal is a struggle and climate change is very real threat. As far as can be ascertained, there is no such thing as a global low carbon energy coalition, nor will there ever be……"
SP Energy Networks has unveiled plans to invest £3.2bn by 2028 in critical infrastructure upgrade works needed to support the UK's net zero goals. SPEN's draft RIIO-ED2 Business Plan also includes a £30m 'Distribution Net Zero' fund which will support low carbon project proposals.
Another announcement from SPEN was that they had appointed Conrad Energy, the UK's largest Independent Power Producer, to assist with a ground-breaking project to utilise reactive power to solve network constraints, helping support communities and customers on the journey to net zero emissions. This is the first time a UK Distribution Network Operator (DNO) has contracted with a third party to provide a reactive power service at a distribution level, and we're proud to be helping lead the way towards a cleaner, greener future – a vision shared by Conrad Energy.