Judith Patten, Project Director of All-Energy, provides an account of her time in industry-led events and what led her to co-create the UK's largest renewable and low-carbon energy exhibition and conference.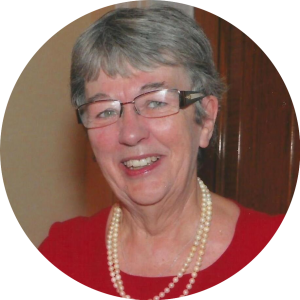 Originally published at: Underwater Technology, Vol. 37, No. 1, pp. 1–2, 2020
I am not an engineer (although I plan to be one in my next life), a scientist or a technologist, yet my life for almost 45 years has been heavily involved with the offshore oil and gas industry and oceanology, and also the 'new kid on the block', renewable and low-carbon energy.
When asked to write a Personal View for Underwater Technology, true to form I jumped right in enthusiastically and accepted this invitation. I hoped that inspiration would hit me at an appropriate moment and indeed it has, for writing this on Valentine's Day I have determined to come clean about a long, long love affair.
I trained and worked in public relations for many years, firstly in a highly specialised consultancy, then in an advertising agency during the buzz and excitement of the 1960s. After I had my first child, I started my own PR business in 1969. However, it was in 1975 that my love affair truly began. I was asked to handle PR for a conference on China's oil industry held in Glasgow and organised by the Sino-British Trade Council. There was one slight snag. I was due to give birth to my second child just six weeks before the conference.
By the time my son arrived, I was looking after delegate registration and diving ever further into the programme planning for the conference. I gave up working for a day to give birth, and afterwards my husband brought the files into hospital (women were in hospital for up to 10 days then), plus the messages from my answering machine, and posted my hand-written notes out to people. I arrived in Glasgow and discovered immediately how incredible conferences are: the warmth from people who had heard my answering machine message, 'Sorry I'm in hospital having a baby', the incredible buzz when journalists lined up to interview the Chinese Ambassador under the stairs, seeing the productive interaction between delegates. I was hooked!
There, I met the inspirational David Stott, founder of Spearhead Exhibitions. He created Offshore Europe in Aberdeen, and shortly after the Glasgow conference asked if I would work on that mighty event. I did so for a quarter of a century, handling PR and marketing, and constantly marvelling at the ingenuity of engineers, learning more and more about the industry, and relishing its rapid development. During the 1975 show I was speaking with the late George Williams, then director of the United Kingdom Offshore Operators Association (UKOOA), which is now Oil & Gas UK, or OGUK) when two young men came over to ask how he, as a Shell Exploration manager, had found oil in Nigeria. I sensed their excitement at meeting him and listened to the story – it had just as much buzz and excitement as the advertising scene of the 1960s. I was already feeling the proverbial 'round peg in a round hole', and marvelling at how industry events bring people together.
In around 1976 I undertook a survey to find out how many people worked in the exploration companies in Aberdeen. The total was something like 1200, and within a very short time after this Shell and BP each employed that many in the city. It was exciting to witness the growth not only of the industry but of innovative solutions too – and engineers of all types and levels of seniority were only too glad to explain their projects and technical developments both at Offshore Europe and to me.
David Stott acquired Oceanology International in the first half of the 1980s, creating opportunities to meet further inspirational people and learn about new solutions. I was 'loaned' to work in the press office at Stavanger's Offshore Northern Seas (ONS) for two shows and found myself being interviewed by a journalist It's time to reveal a long love affair Judith Patten has directed her PR company, JPPR, since 1969, with the exception of the time when she joined Spearhead Exhibitions for 18 months (from autumn 1988 to spring 2000). While her company started as a general PR consultancy, now her clients are all involved with some aspect of marine engineering. She was presented with the Scottish Green Energy Outstanding Contribution Award in 2012, awarded MBE in The Queen's Birthday Honours 'for services to renewable energy' in 2014, and in the same year became a proud SUT Fellow. Judith Patten. It's time to reveal a long love affair 2 who quoted me as saying, 'I love exhibitions' – the only words in English in his copy. Yes, I had well and truly got the bug!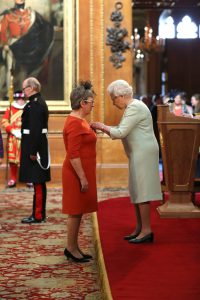 Then there were the niche events on inspection, repair and maintenance (IRM), platform weight, helicopters and more, and shows in Rio, Caracas and Azerbaijan. There was always the same incredible buzz on the show floor as people met face-to-face – there really is no substitute!
My love for events grew, and as David planned to retire in 1999, I decided to make my PR business' clients and team redundant in order to join him at Spearhead Exhibitions for his final 18 months so I could learn 'at the feet of the master'. It was at this time that we both started talking about renewable energy: was it becoming commercial enough to have an exhibition of its own? The Board of Spearhead Exhibitions was not enthusiastic about this idea.
After David retired, I continued working on Offshore Europe, and it was thanks to a phone call to the Economic Development Unit at Aberdeen City Council, when it was explained to me, 'We are no longer the oil and gas capital, we are the Energy City', and the answer of 'yes' to my question, 'Does that include renewable energy?', that the next, and perhaps most exciting, period of my working life began. In the early 2000s, David and I created the renewables event that we had wondered about, and which has now grown to become the UK's largest renewable and low-carbon energy exhibition and conference: All-Energy.
SUT became involved with All-Energy right from the start after we bumped into Ian Gallett, SUT's then CEO, at a show. He was there to see if there was scope for an SUT renewables conference. Over a cup of coffee, we decided to work together, and every year since, members of SUT's Marine and Renewable Energies Committee (MREC) work with me on the marine renewables stream of the conference.
The show was acquired by Reed Exhibitions in 2011. It stayed in Aberdeen until 2014 and then moved to Glasgow, where we will celebrate its 20th anniversary in May 2020. I have the fantastic challenge of creating a 600-speaker conference (yes, 600 speakers in just two days!), handle PR for the event each year, and act as its 'ambassador'. I'm still on a learning curve. It is an event with enormous purpose as we consider the climate emergency that will bring over 190 nations together at COP26 in Glasgow in November 2020; All-Energy will be a stepping-stone to this, and a legacy event.
I believe that now, as the greatest beneficiary of industrialisation and fossil fuels, the UK has a responsibility to lead the world in the next great transformation: decarbonisation and tackling climate change. We must demonstrate that the challenge can be faced head-on and society can, and must, continue to thrive and prosper in order to create transformational changes to our economy. It is discussion of those changes and innovatively engineered solutions that will draw some 8000 people to All-Energy 2020.
In almost 45 years of involvement with industry-led exhibitions and conferences, I have met the most incredible people, seen business being conducted first-hand, and experienced the value of people meeting each other. I have learned so much about innovative engineering, thrived on adrenalin coursing through my body, and loved every minute of it. Long may it continue!