UKRI's road to net zero; Investing for impact
UKRI
In our webinar "UKRI's road to net zero; Investing for impact" on 4th November, 2020, Mike Pitts Deputy Challenge Director, Transforming Construction, UKRI delivered a discussion on using innovation to help the Sectors become environmentally and financially sustainable.
You can watch the full webinar here for free and see what Mike had to say about innovation challenges, along with our other expert panellists.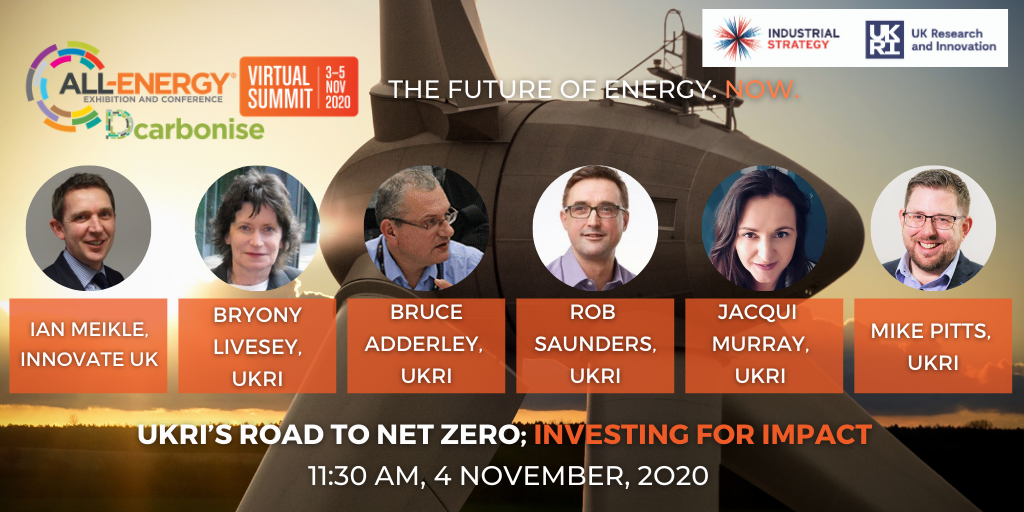 Mike Pitts, Deputy Challenge Director, Transforming Construction, UKRI
Mike is the Deputy Challenge Director for Transforming Construction –the government's Industrial Strategy programme linked to the sector deal and managed by Innovate UK, part of UK Research and Innovation. He acted as interim Challenge Director in securing the programme as part of the Industrial Strategy Challenge Fund. Mike was previously Head of Urban Systems at Innovate UK, covering the priority areas of Urban Living and Smart Infrastructure. He joined Innovate UK in 2012 to lead on embedding sustainability across Innovate UK's strategy. He has also led Clean and Cool entrepreneur Missions in 2013 to Brazil and 2015 to San Francisco and ran the Resource Efficiency programme during 2013/14.
Previously Mike spent five years driving sustainability-led innovation in the chemical industry with Chemistry Innovation. He has developed and managed projects on lifecycle analysis, renewable chemicals, industrial biotechnology and resource efficiency across the chemistry-using industries. Mike holds a PhD in organic chemistry and spent his early career in several technology spin-outs leading R&D teams developing process technology for the pharmaceutical, agrochemical and electronics industries.
What will I learn about?
Transforming Construction Challenge
and Net-Zero 
The Net-Zero office block
Net-Zero Schools
And more
For an insight into Mike's discussion, please download the below slides.