Harnessing the power of energy data: accelerating to net-zero
Sponsored by UK Research and Innovation
In our webinar "Harnessing the power of energy data: accelerating to net-zero" on 14th January 2021, Jim Scott, Co-founder at Grid Edge delivered a discussion on harnessing the power of data using AI.
You can watch the full webinar here for free and see what Jim had to say about using energy data in the drive towards net-zero.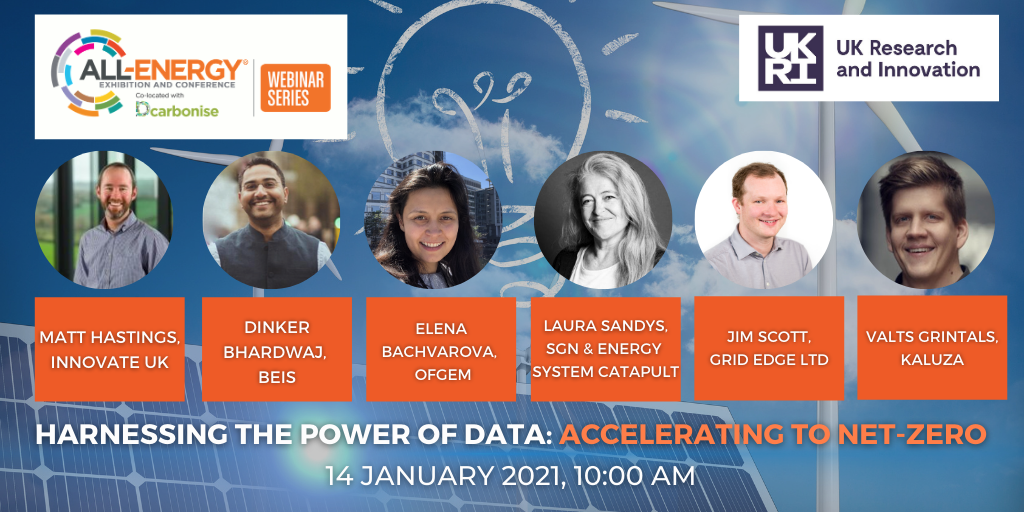 Jim Scott, Co-Founder and Chief Product Officer, Grid Edge Ltd.
Jim has worked in cleantech and renewable energy technologies for his whole career working across a variety of generation side sectors and on energy efficiency projects for commercial and industrial consumers and for municipal districts. Jim holds a MSc in renewable energy engineering and a PhD in operations research.
In 2017 he co-founded Grid Edge Ltd as Chief Product Officer. Grid Edge provides data science and machine learning software to consumers that help them deliver their decarbonisation strategies, from efficiency to flexibility. Jim builds products that empower energy consumers to foresee and act on the opportunities available to them through the energy transition.
What will I learn about?
How could better energy data satisfy both households and industry

What policies and regulations are needed to support innovative data-based solutions to provide new services?
How can we ensure these innovations benefit diverse consumers, and protect everyone against emerging risks?
And more
For an insight into Jim's discussion, please download the below slides: