Harnessing the power of energy data: accelerating to net-zero
Sponsored by UK Research and Innovation
In our webinar "Harnessing the power of energy data: accelerating to net-zero" on 14th January 2021, Matt Hastings, Head of Innovation at Innovate UK delivered a discussion on the vision for modern, digitalised energy data.
You can watch the full webinar here for free and see what Matt had to say about using energy data in the drive towards net-zero.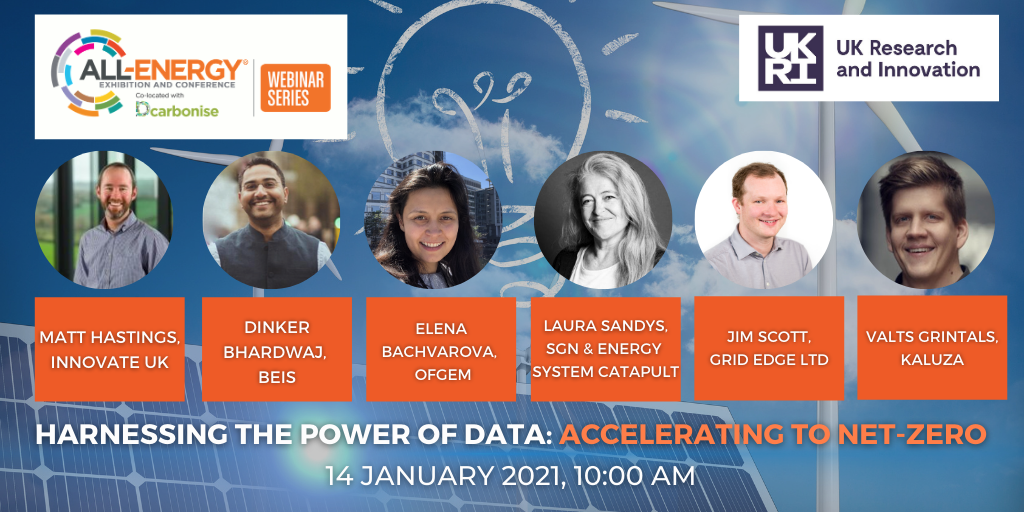 Matt Hastings, Head of Innovation, Innovate UK
Matt Hastings has been developing and delivering disruptive change programmes across energy and utilities for the last 15 years.
He's currently working at Innovate UK as Energy Systems Innovation Lead working on the Government's Industrial Strategy Challenge Fund. He is focused on delivering the Modernising Energy Data Access competition and working with investors to solve energy systems investment challenges.
Prior to Innovate Matt spent 5 years at Centrica where he was the Business Visionary and Programme Director of the multi award winning Cornwall Local Energy Market, a £19m trial of the world's first Local Energy Market (winner of Smart Grid of the Year at the REA Awards, Innovation of the Year in the Business Green awards and the Smart System of the Year award at the Solar and Storage awards).
Prior to Centrica Matt led on energy at the Eden Project reducing emissions and costs by 25%, setting up the UK's first staff owned PV installation (Solarfair) and the first collective switching project in the UK, Cornwall/UK Together.
In his early career he set up several start ups and worked in the Video Games industry. He studied Renewable Energy in 2005 and was ESTA Energy Manager of the Year 2012
What will I learn about?
How could better energy data satisfy both households and industry?
What policies and regulations are needed to support innovative data-based solutions to provide new services?
How can we ensure these innovations benefit diverse consumers, and protect everyone against emerging risks?
And more
For an insight into Matt's discussion, please download the below slides: