Harnessing the power of energy data: accelerating to net-zero
Sponsored by UK Research and Innovation
In our webinar "Harnessing the power of energy data: accelerating to net-zero" on 14th January 2021, Valts Grintals, Senior Flexibility Analyst at Kaluza delivered a discussion on domestic flexibility and data.
You can watch the full webinar here for free and see what Valts had to say about using energy data in the drive towards net-zero.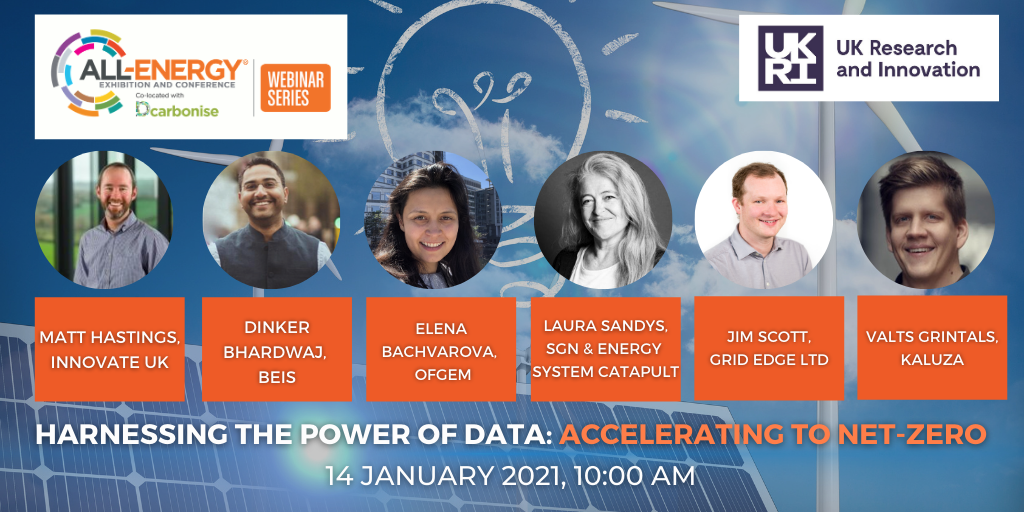 Valts Grintals, Senior Flexibility Analyst, Kaluza
Valts has over six years' experience in the UK and European energy storage and flexibility space. After completing an MSc in Renewable Energy and Distributed Generation from Heriot-Watt University, Valts worked as a consultant, assisting a range of energy suppliers, OEMs, network operators and entech start-ups to maximise the value of flexibility for their operations.
Valts then joined Kaluza as Flexibility Analyst in 2018.Driving the transition to a smart, zero-carbon grid, the Kaluza platform securely connects and optimises millions of connected devices, including electric vehicles, heating systems, and home energy storage devices. As Senior Flexibility Analyst, Valts works with energy traders, energy suppliers and network operators to understand and resolve grid challenges with flexibility, helping to shape the future of energy.
What will I learn about?
How could better energy data satisfy both households and industry?
What policies and regulations are needed to support innovative data-based solutions to provide new services?
How can we ensure these innovations benefit diverse consumers, and protect everyone against emerging risks?
And more
For an insight into Valts' discussion, please download the below slides: