UKRI's road to net zero; Investing for impact
Industrial Decarbonisation Challenge
In our webinar "UKRI's road to net zero; Investing for impact" on 4th November, 2020, Dr Bryony Livesey ISCF Director, Industrial Decarbonisation Challenge delivered a discussion on using innovation to help the Sectors become environmentally and financially sustainable
You can watch the full webinar here for free and see what Dr Bryony Livesey had to say about innovation challenges, along with our other expert panellists.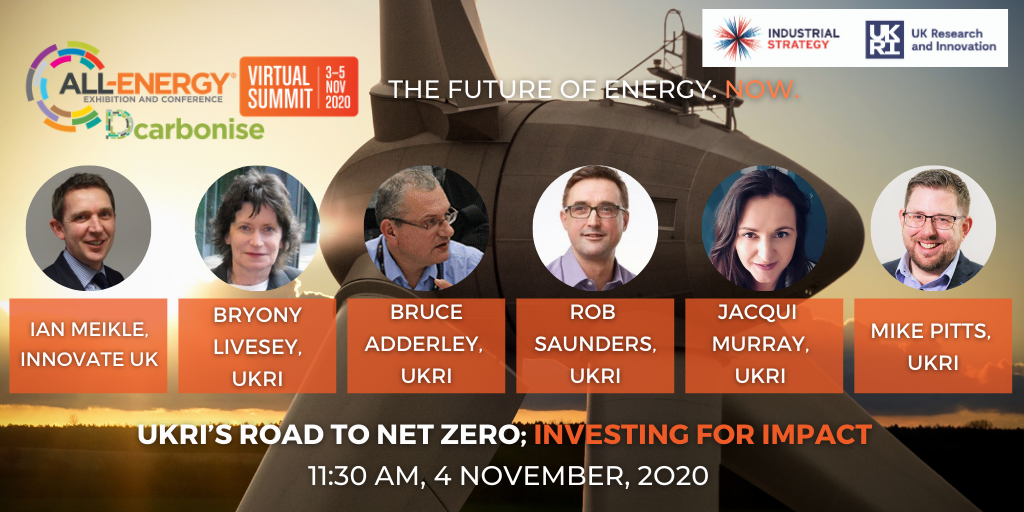 Dr Bryony Livesey, ISCF Director, Industrial Decarbonisation Challenge
Bryony leads the Industrial Decarbonisation Challenge (IDC), which forms part of the Industrial Strategy Challenge Fund (ISCF). IDC is a £170m programme with £261m match funding from industry, designed to deploy low carbon technologies and enabling infrastructure in heavily industrialised regions of the UK.
Bryony was previously Head of Technology at Costain, with responsibility for the identification and development of new technology. She was a member of BEIS' CCUS Cost Challenge Task Force, a Director of the CCSA (where she co-chaired the Technical Working Group) and chairs the Independent Advisory Panel for the UKCCSRC.
Prior to Costain, she was head of the R&D centre for Doosan Babcock, where she established their global R&D Centre, focussing on clean energy. Bryony previously worked for AEA Technology, leading technology and innovation in senior management roles both in the UK and internationally, including four years as President of a Joint Venture company in Tokyo.
What will I learn about?
Challenge Overview
Industrial Decarbonisation Challenge Delivery
BEIS Industrial Clusters Mission Statement
And more
For an insight into Dr Bryony Livesey's discussion, please download the below slides.